May 16th, 2016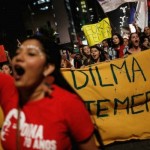 Class Struggle in Brazil:
Who Will Defend the Working Class?
The political farce perpetrated against the Brazilian people on Sunday, April 17, when the country's national congress approved the impeachment of President Dilma Rousseff is a critical moment in an ongoing class war against the left, labor and the poor. Instead of an exercise in democratic political sovereignty, as the center-right coalition would prefer the rest of the world believe, the congressional vote is a de-facto political coup.