November 11th, 2018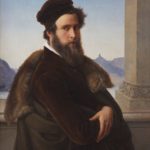 Secrets of a Mystery Man:
Wilhelm Schadow and the Art of Portraiture in Germany, circa 1830
In an age acutely aware that revolutionary upheaval had broken the continuous thread of history, the question of how a modern identity would navigate between the desire for historical continuity and the need for contemporaneity was as crucial as it was painful. After all, even Charles Baudelaire desired to distil the eternal from the transitory, and defined modernity through this gesture. Thus, Schadow's pictures remind us that the geo-political desire for a German identity intersected with the specific desire undergirding the more general quest for a modern identity.