February 11th, 2019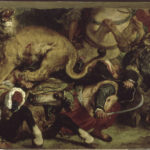 In Defense of Painting:
Delacroix's Lion Hunt at the 1855 Exposition Universelle
The claims about Delacroix's allegiance to l'art pour l'art were not new: critics had been accusing him of this tendency as far back as 1834. In that sense, Lion Hunt is indeed retrospective, in Delacroix's lifelong embrace of the materiality of the painted canvas. But there was more to this question of art for art's sake than a simple reiteration of a preferred stylistic mode. More than mere formalism, Delacroix's fascination with the material nature of the pictorial surface had a deeper resonance in 1855, one that engaged with traditional aesthetic practices, contemporary realism, and modern technologies of vision.