February 11th, 2019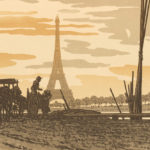 The Ornamented Eiffel Tower:
Awareness and Denial
That the almost 130-year-old Tower has been a monument sacré for fifty-five years has clouded both popular and specialist awareness of its transformation. Because we are familiar with Barthes's, Malraux's and Barnes's Tower, the stripped-down post-1937 structure, which features a ruthlessly geometricized horizontal construction as its first platform, key aspects of its initial lacey ornament have not figured in histories of the structure, its reception, and representation. Answering the questions—who noticed the ornament when the Tower was new? and so what?—is a goal of this essay.