November 11th, 2018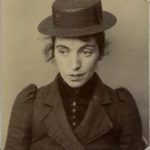 The Medical Portrait:
Resisting the Shadow Archive
In spite of the historical and ethical difficulties these photographs pose, I would argue that the hesitations are worth overcoming, as the images have a great deal to teach us about the power immanent in the very act of posing for a picture, even when the imagined audience remains unseen. Through the photographs made at the Holloway Sanatorium, a modicum of agency may have been granted to those who were generally presumed to be without it. And thus, even if only for the span of time it took to stage and take the photograph, a highly vulnerable person could resist being reduced to the category of specimen, and could become, instead, a subject.