November 6th, 2017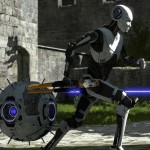 Alone In A World of Objects:
Videogames, Interaction, and Late Capitalist Alienation
Is feeling good an aesthetic? We might say that feeling a kind of subjective pride is a commodified politics—an affiliation of progressive sentiment with market forces that we have seen in such ad campaigns as Oreo's LGBTQ-positive viral advertising, a way to align politics with preferences. This preferential politics is mobilized, at least in part, by Gone Home as form and content marry to create a limited political efficacy, a reaffirmation of the player's good politics regarding sexuality (or, conversely, a negative pleasure for the player in experiencing politics that they do not find agreeable). But while preference can produce a politics, it is difficult to imagine that "feeling good" can count as an aesthetic.