May 3rd, 2016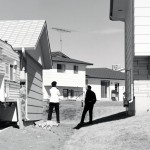 Density of Decision:
Greenberg with Robert Adams
This is to say that the strictly documentary character of Adams's work, which by and large claimed viewers' attention at the time of New Topographics, has somewhat receded in importance. And it is also to suggest that the theoretical issue of the non-representational nature of the photograph as well as of the problematic status of the photographer's inten­tions owing to the photograph's indexicality…turns out to be not quite relevant to the present case. Or rather, more precisely, it is as if the "weak intention­ality" of the pho­to­graph…turns out to throw into relief the extra­ord­inary strength and efficacy of Adams's esthetic perfection­ism…with respect to the appear­ance of the final print, the esthetic artifact as such.